Hospitality House is a non-profit program in Nevada County servicing the homeless.
Utah's Place serves homeless individuals and families in our community by providing a place to shower, do laundry, have meals and receive case housing management. Guests are invited to check in each day after completing the registration process (which includes showing proof of a negative TB test or signing up for testing at the center). Each day our guests must check in between 4:00 p.m. and 5:30 p.m. for admittance to the shelter. Upon sign-in guests sign up for daily chores, and adults must consent to an alcohol breath-test and/or random or suspicion-based drug testing as a condition of admittance to the shelter. We are a zero- tolerance shelter. Guests can leave their belongings for the night in a bin underneath their assigned bed. Guests must agree to the Hospitality House Mutual Respect Agreement while at the Shelter and can utilize services for up to 180 cumulative days.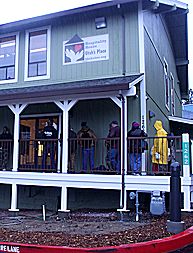 We are located at 1262 Sutton Way in Grass Valley.
Services Provided:
Emergency Overnight Shelter
Hot Meals
Weekly Medical Clinic and Referral Services
On site TB Testing and Flu Shots
Onsite Mental Health and Substance Abuse Screenings
Housing Case Management
Public Assistance Applications
Showers and Laundry
Free Clothing, Bedding, Coats, Hygiene Products
Recreation and Community-Building such as Daily House Meetings, Movies, Games, and Cards
Life Skills and Personal Life-Enhancing Activities/Plans
Housing Readiness Workshops
Job Readiness Workshops
Crisis Support
---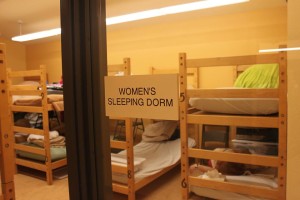 Mission & Vision
Hospitality House is a 501 (c) (3) nonprofit community shelter for the Homeless in Nevada County funded primarily by individual donations. The year-round shelter is a no tolerance safe haven; those seeking shelter at Hospitality House are offered three meals, along with laundry and shower facilities. Hospitality House is committed to ending homelessness by providing intensive case management services to all its guests. Seventy-five percent of our guests move out of homelessness into permanent housing.
Our Mission
The mission of Hospitality House is to bring homeless people in Nevada County into a circle of community caring that offers shelter, sustenance, medical care, advocacy, opportunity, dignity, and hope as we assist them in transitioning from homelessness to housing.
Our Vision
To empower homeless people with the tools to overcome the barriers that prevents them from securing homes. We advocate for greater community support and optimize resources dedicated to the homeless. We respect diversity and serve all individuals by providing physical, emotional and spiritual support.
Our Core Organizational Values
Home is where the hearts is. Because we all long for warmth, comfort, and safety, few losses strike more deeply into our lives than the loss of home. At Hospitality House, our hearts are with the homeless.
We show compassionate behavior toward all people at all times.
We work supportively with one another in a spirit of mutual appreciation for talents and abilities.
We dedicate ourselves to the mission of the organization, manifesting in practical actions that turn short-and long-term goals into realities.
We practice careful, sincere, and respectful listening that leads to mutual understanding, consensus building, and organizational stability.
We strive for the courage and integrity to uphold the civil rights of all, even when doing so may offend those who are opposed to upholding such rights.
We practice competent decision making in all areas that sustain the organization over time.
We participate in extensive community involvement in a spirit of radical inclusiveness.
---
Make a Donation
"Our lives are to be used and thus to be lived as fully as possible, and truly it seems that we are never so alive as when we concern ourselves with other people." – Harry Chapin
Thank you for helping to build the shelter into a place of hope and opportunity for those in need. The Shelter is a 501(c)3 nonprofit organization (Tax ID #: 20 2976148).
One Time Donation by Credit Card or PayPal
Recurring Monthly Donation by Credit Card or PayPal
Monthly ACH Donations

Or mail your check payable to Hospitality House to: 1262 Sutton Way, Grass Valley, CA 95945.
For your convenience, you can have your donation automatically transferred from your Checking or Savings account to the Hospitality House account. This can be done for a one-time donation, as well as setting up recurring monthly donations.
To enroll in the electronic funds transfer program please complete the ACH Donation Form and mail to: Hospitality House, 1262 Sutton Way,  Grass Valley, CA 95945.
While every gift is much appreciated, these recurring monthly gifts help assure that we have funding every month.
You can opt out of your monthly donation at any time by contacting our office or sending us a written request. It's that easy.
If you have any questions, please email us.
---
Wish List
Socks
T-Shirts
Disposable Razors
Deodorant
Sleeping Bags
Blankets
Batteries (all sizes)
Daily Bus Passes
Ear Plugs
Tooth Brushes
Pens
Toilet Paper
Paper Towels
Clorox Disinfecting Wipes
15 Sturdy 6′ White Folding Tables
Classroom or dining style chairs (vinyl seat cushions preferred)
Plastic Lawn Chairs
How to Donate
Send donations to:
Hospitality House Shelter
PO Box 3223
Grass Valley, CA 95945
www.hospitalityhouseshelter.org